Our Heritage
McKinney's Jewellers is a beacon of tradition combined with a fresh, modern approach. This fifth-generation business, started by John McKinney in Toowoomba in 1884 has been a stalwart and indeed a major success in the Queensland and East Coast retail scene for 139 years.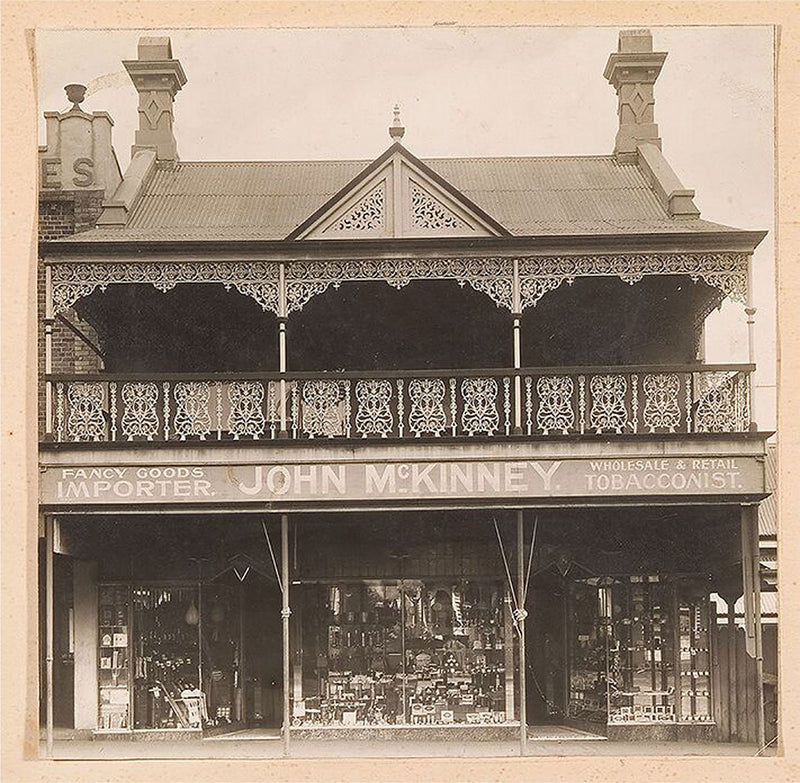 Original McKinney's store on Ruthven Street, Toowoomba. Courtesy McKinney Family Archive.
A long and rich history
Hailing from Toowoomba to become an international business spanning five generations is something of which the McKinney family is immensely proud.

Each generation has brought their own particular talent and creativity to the business. Our adventurous founder, John McKinney travelled all the way to Queensland from Northern Ireland in 1884 and after little success finding his fortune at the gold fields successfully established McKinney's in Toowoomba.

The very dapper second generation, Ken McKinney travelled the globe to source the finest merchandise, including pearls from Japan, to grow the business into a thriving Darling Downs department store where everyone shopped.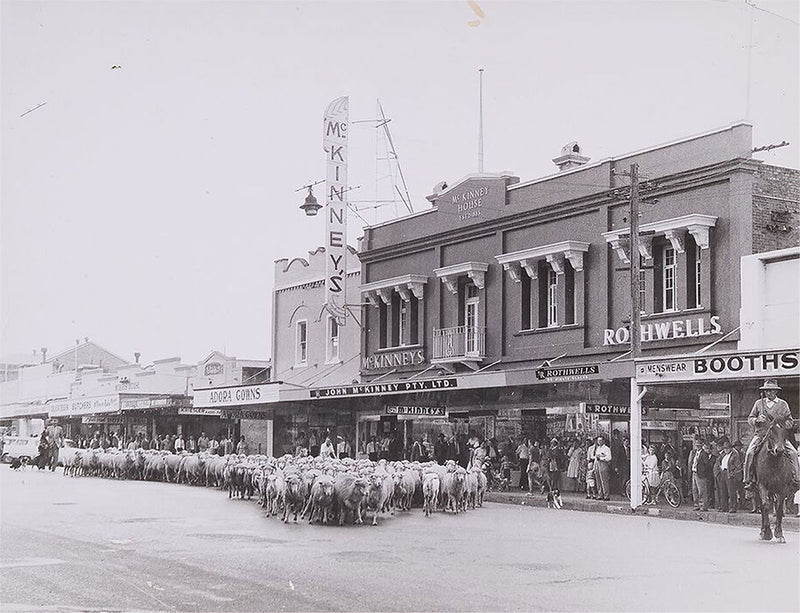 Sheep herded outside of McKinney's Toowoomba 1954. Courtesy McKinney family archive.
John Kenneth McKinney was innovative and entrepreneurial and continued to successfully grow the business adding departments that piqued his interest such as furniture, boats, sporting and electrical goods.

John McKinney also acquired Australia's oldest jewellery business, Hardy Brothers in 1988 and it was a privilege for the family to be custodians of this national business until its sale to another Queensland family.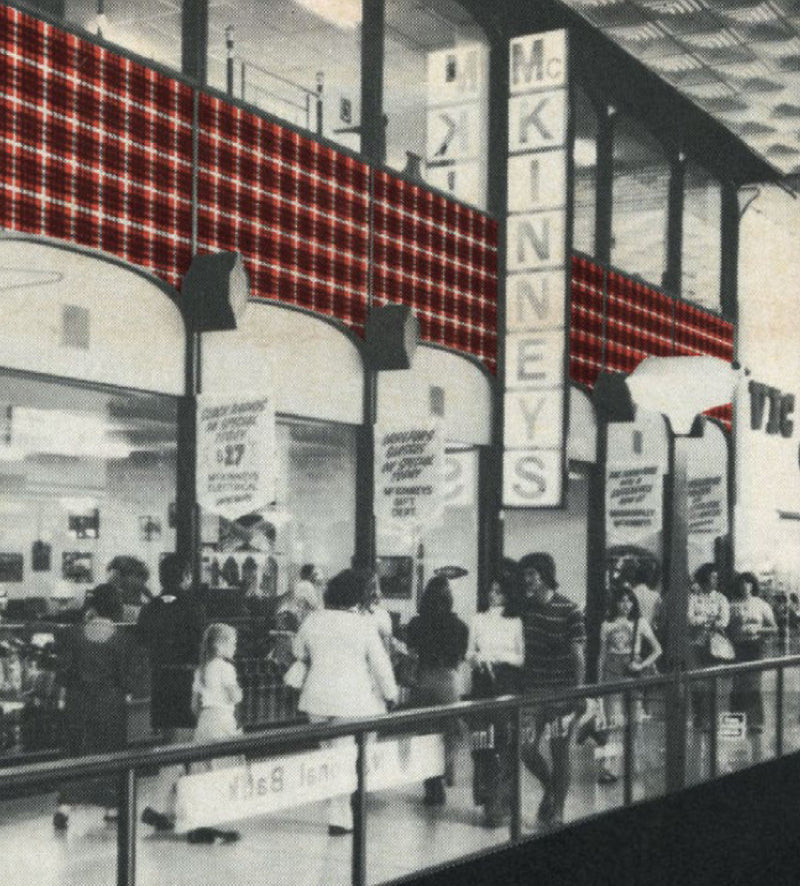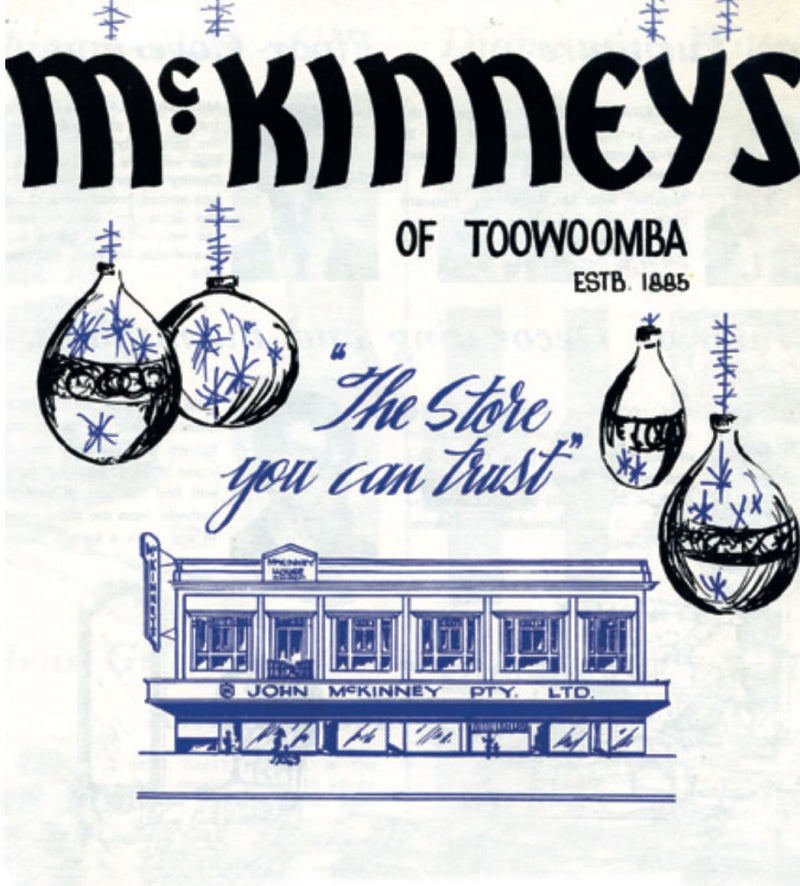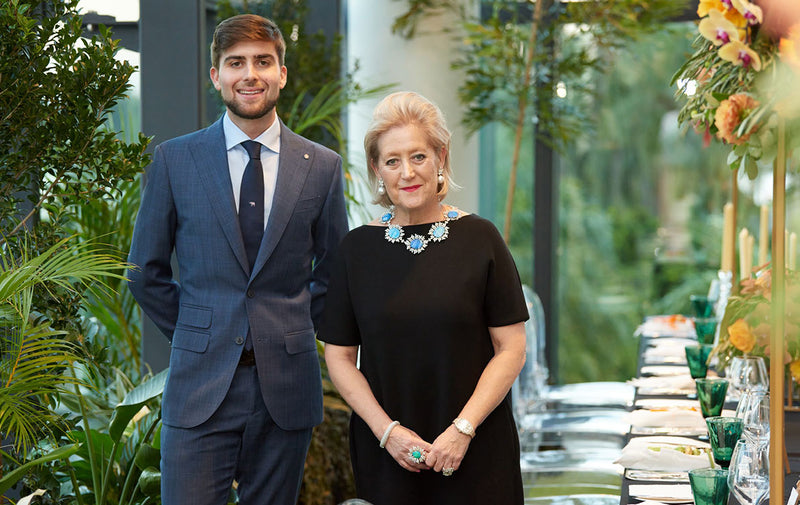 From Top Left: Advertising brochure for McKinney's, Indooroopilly, Brisbane 1974.
Advertising brochure for McKinney's Toowoomba c1960s. Courtesy McKinney family archive.
Andrew McKinney Welch and Margot McKinney. Photo: Michael Carrello.
The McKinney forefathers then discovered their flair for producing and selling luxury jewellery. Now located at the fashionable 1000 Ann St retail precinct in Brisbane's Fortitude Valley, McKinney's continues the family tradition of high quality, personal service and attention to detail in importing and creating the most exquisite jewellery.

The family nurtures their r elationships with the w orld's finest gem cutters and pearl growers, and the master craftsmen and women who bring to life the finest je wellery for their all- impor tant discerning and sophisticated clients and friends.

Each generation has honed the McKinney brand with their own style and character but one thing remains the same – their ability to discern and produce jewellery of exceptional quality and brilliance. McKinney's import the most stunning collections from around the globe including Ole Lynggard of Copenhagen, Marco Bicego from Italy, Hulchi Belunni from Belgium and Isabelle Langlois from Paris. Complementing the imported collections is McKinney's bespoke collection of Australian and Tahitian South Sea Pearls and Diamonds.

Margot McKinney, the f ourth-generation creative powerhouse at the helm of the McKinney brand is personally involved in the sourcing of pearls, often joining the boats to observe the dives. As a fine Jeweller and with such personal involvement, Margot only chooses pearls and gems with the most brilliant lustre and quality.

Andrew McKinney Welch, son of Jane McKinney Welch and her husband, Peter Welch is the fifth generation McKinney to join the company. Andrew is an integral member of the business and we look forward to forging new frontiers as we have for over 138 years.
1881
John McKinney arrives in Queensland aged 19 and takes part in the Palmer River goldrush in Cooktown.
1884
John McKinney Pty Ltd (barber and tobacconist) is founded in Toowoomba.
1955
Architectural drawing of McKinney House, 1955.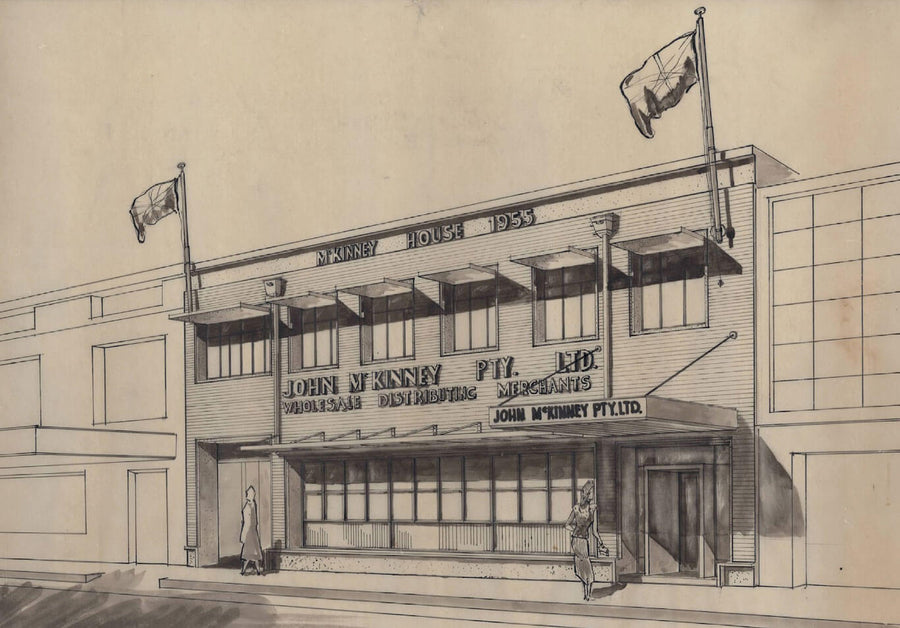 1959
The wholesale department is sold to S. Hoffnung and Co.
1960s
McKinney's employs 70 people.
1968
The furniture department expands from Ruthven Street through to Duggan Street, in Australia Arcade, Toowoomba.
1972
Toowoomba Discount City Furniture and Electrical opens, 1972–1978.
1976
McKinney's opens Indooroopilly Shoppingtown, Brisbane (including Furniture and Electrical). By 1980 this store will be entirely jewellery, china and gifts, and by 1987 it would be jewellery only.
1979
The furniture and electrical business in Toowoomba is sold to Norman Ross, their first store in Queensland. The jewellery and china business moves to McKinney's, Indooroopilly.
1984
McKinney's celebrates 100 years. Margot McKinney manages the Indooroopilly store, while McKinney's Toowoomba is recognised by Wedgewood and Royal Doulton as their major customer in Australia.
1988
McKinney's acquires Hardy Brothers from Christopher Skase.
1992
In May Hardy Brothers' neighbour, the fabric store Gardams catches fire.
Due to fire damage, Hardy Brothers is closed for a week and completely refurbished. That same month, a new sales system is installed in all stores.
1995
Seventy year progress of 'The House of Quality', 493 Ruthven Street Toowoomba, is published.
2004
John McKinney closes McKinney's Toowoomba.
2007
McKinney's opens at Emporium, now known as 1000 Ann Street, Fortitude Valley.
2007
Margot begins designing jewellery and launches Margot McKinney.
2008
Neiman Marcus begins stocking Margot McKinney.
2011
Margot McKinney visits Ellies Pearls in Arnhem Land and buys the entire baroque harvest of pearls.
2016
Margot McKinney sponsors G'day LA/USA.
2021
Mattel releases their Julie Bishop Barbie doll, immortalising the outfit of the former Foreign Minister on the day she left politics, including her Margot McKinney jewels.
2022
World of Wonder: Margot McKinney at Museum of Brisbane (18 June to 6 November).
2022
Andrew launches McKinney Welch for men looking to expand their wardrobe.
2022
Neiman Marcus begins stocking McKinney Welch.
2023
Margot McKinney sponsors The Prince's Trust Global Gala in New York.